Car rental step by step
- 1 -
In the first step of reservation system choose the place of pick-up and return the car and set the date and time at which the car should be to Your disposal. If You're not sure of the spelling of the town, after writing the first 3 letters the search engine will suggest You possible locations. You should also give the place of residence.
You can restrict your search to a category of car (eg. economy, luxury, van, convertible, 4x4) and by giving concrete partners (car rental). Searching can be done at all or by selected partners. All categories of car and all the partners are set default.
After selecting all the parameters, click the "Search".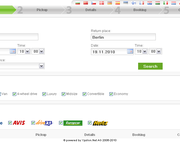 - 2 -
In the next step search engine displays all offers in accordance with predefined criteria, sorted by price.You can also try to change the sorting criteria.
With each offer, there will be information about possibilities of expansion and about insurance packages. Move the mouse over the picture of car in a selected range and learn about its details (eg. type of car, number of passengers, number of doors in the car, air conditioning, GPS, auto / manual gearbox).
After selecting the offer, go to the next reservation step by clicking "Select this offer."
- 3 -
In the third step we obtain details of the selected offer, such as the availability of cars in a specific location, additional equipment, identify addresses of the pick-up and return of cars. Using the drop-down list, you can change stations in the previously given city. After clicking on "Check stations" you can check the availability of cars and the price of the selected station. There will also be rental conditions with which you have to know before making a reservation.
After checking the availability of offers, click on "Go to reservation."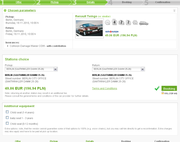 - 4 -
In the next step include the reservation of the selected car. You must fill in all required data marked with * personal data, contact details and form of payment. This information is necessary to make a reservatiom and send the confirmation.
Before proceeding to the next step reading the rental conditions and their acceptance is required.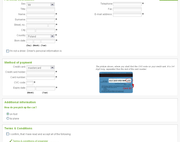 - 5 -
The last stage is a confirmation with detailed information about your reservation. Confirmation presented in the last step shall also be forwarded to the mail. We recommend printing an e-mail.